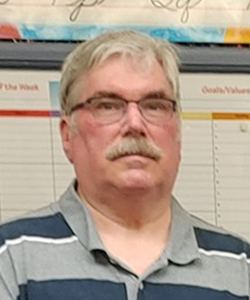 Mr. Marty Miller, Principal
7th & 8th Grade Teacher
I pray that everyone had a tremendous Easter. Book Report happens tomorrow. Please have your book read. Our "Demonstration". Activity is next for Creative Expression. Please put some thought behind it and do an Eighth Grade quality job. Achievement Testing starts Monday. Please come to school with breakfast in your tummy and a great night's sleep. Everyone is off to a great start min fourth quarter. Keep it up!! Parent Conferences are next week. Please remember that the students are expected to be there. Have a great rest of your week.
Science Fair Projects –
The time is fast approaching for the final due date: May 14th. A schedule has been sent home with each student to help them plan out their next few weeks and have a successful project. Remember to use your resources, including your instructor for the Science Fair, Mrs. Geistfeld. Since this is a project to be done by the student and not a class assignment I am assuming you are working on it and have no questions and understand what to do unless you talk to ME!! I can't help if I don't know you need help.